The structural resilience of B2B data, information and software businesses has once more been proven during COVID-19. Subscription renewal rates and valuations remain strong because of the acceleration of digitization and the sector's critical role in supporting customer decision-making.
The current inflationary environment may also be favorable to the sector. With US inflation reaching 7% in December 2021, a 40 year high, customers are relying on data more than ever to evaluate procurement and pricing strategies and ultimately to protect margins.
Deep understanding of customer behavior by segment is critical for the B2B data, information and software sector to take advantage of this positive environment; and there are significant value creation opportunities by applying this customer insight to renewals strategy, pricing and product development.
Develop a disciplined and segmented approach to maximise renewals
A well-constructed renewals strategy is crucial to delivering customer value and supporting revenue growth. Renewals typically represent 70%+ of annualized revenue and the net contribution of a renewal can be 6-8x that of a new business sale.
A successful renewals strategy requires a disciplined approach to commercial strategy supported by robust customer segmentation. Segmentation should reflect:
The long-term value of the customer: including current spend, ability to grow share of wallet and strategic / non-monetary benefits (e.g., to support marketing or new market entry)
The risk of non-renewal: including the financial position and business outlook for the customer, how critical and embedded the product is, product usage, and the viability of switching to alternative options
By understanding the relative value and risk of each customer, commercial teams can quickly determine the best approach to handling a renewal, thereby limiting value leakage. For example, a high value customer with low risk of renewal is unlikely to require flexibility on discounting or payment terms; but a high value-high risk customer might (see chart).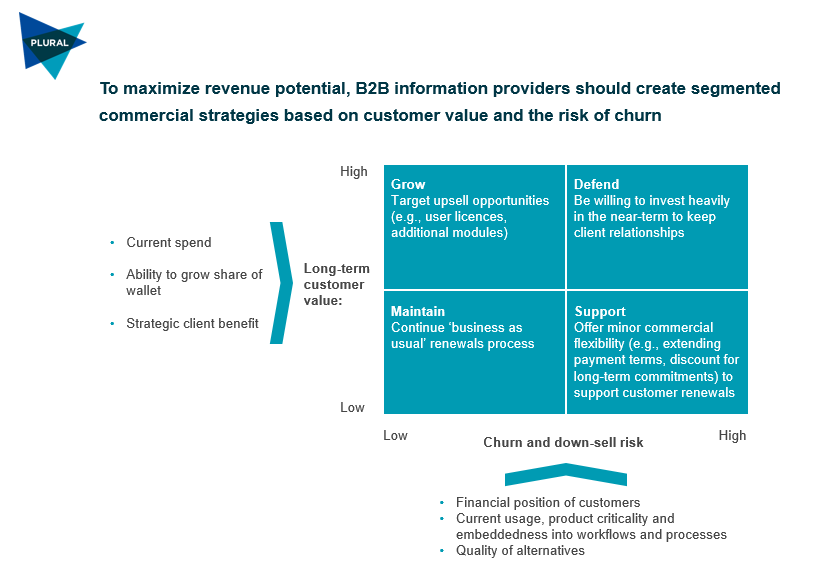 A deep understanding of customer needs by segment is also the foundation of a sophisticated pricing strategy. By introducing price discrimination by segment, B2B information providers can maximize revenue. For example, high value-high risk customers may qualify for a pricing incentive for a defined period while the value of the product is proven. High value-low risk customers could be offered an incentive to take a significantly larger number of licenses. Low value-high risk customers could be offered moderate discounts in exchange for a long-term commitment.
Meet evolving customer needs through continuous product development
The changing environment is creating opportunities for B2B information vendors to serve new user needs and potentially new customer groups. As digitization has accelerated during COVID-19, new datasets have emerged that help users address operational challenges in fresh ways. Customer expectations for the user-friendliness of interfaces have also risen. As a result, modeling capabilities are improving and B2B information companies are offering customers more sophisticated tools to project the impact of price changes, adjust pricing strategy and therefore protect margins.
High inflation is also increasing the need for cost and price data and changing usage patterns. For example, procurement departments are seeking to understand the true price of inputs to make sure supplier price increases are reasonable. As a result, procurement managers may alter the terms and length of contracts to protect against further pricing movements.
Invest in customer understanding as a capability
Understanding and segmenting customer behavior and needs is the critical capability underpinning both renewal and product development strategies. As data becomes increasingly available to capture and aggregate, B2B information businesses need to ensure they have the technical infrastructure and analytics in place to:
Proactively and automatically identify accounts at risk of churning
Understand which products are used, by whom and which provide the most value
Assess where customer pain points with the existing offering lie
However, delivering a truly customer-driven strategy is more than a technical endeavor. Modifications to existing customer success and product development processes will also be required to interpret and action customer insight. For example, vendors may need to invest in new account management and customer success approaches to identify and manage high value-high risk accounts and limit churn.
Find out more
Contact Jonathan Dufton to learn more about how Plural works with vendors and investors in the B2B data, information and software sectors, to deepen customer value.
Update
A version of this article was originally published on 13th July 2020, during the Covid-19 pandemic. The content was updated on 15 February 2022 to reflect the current market dynamics. To read the original content, dated July 2020, visit LinkedIn.