Inline inspection is an attractive, fast-growing segment of the broader test and measurement equipment market with strong fundamentals driven by changing user needs, regulation and disruption from new technologies. The challenge for technology corporations and investors is building scalable, winning platforms.
There are fundamental drivers supporting the growth of inline inspection
Inline inspection is used across pharmaceutical, food, beverage and other process industries for safety and quality control. There has been an evolution in the technologies with traditional metal detectors and check weighs being replaced or complemented by X-rays or machine vision systems and various innovations to improve accuracy, thoroughness and capability.
Adoption of these technologies remains low, particularly in more cost sensitive areas of the food and beverage industry due to a historical reluctance to invest in advanced technologies. However, increasing use of these technologies across process lines is being driven by changing consumer needs and expectations of safety and quality, increasingly stringent regulation and more complex processing lines requiring greater levels of quality control.
These drivers are resulting in strong market growth, with leading players achieving 14% CAGR revenue growth in the last 5 years. Overall, the outlook is strong as regulatory, consumer pressure and technology development encourage the roll out of inspection solutions.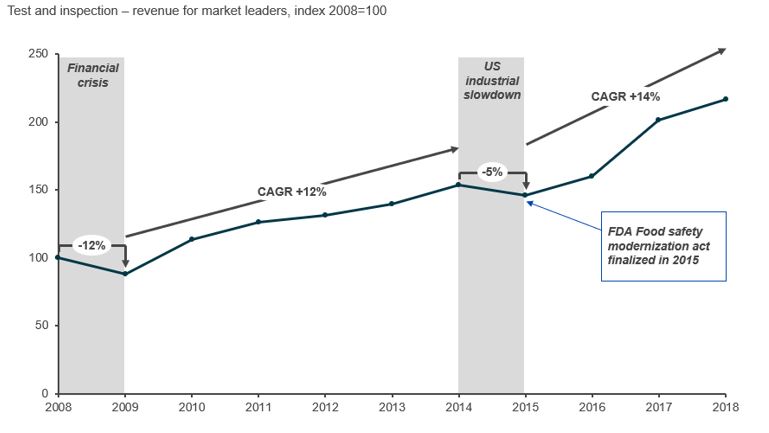 There is a relatively fragmented supply side; specialists differentiate through cost, technology or applications
The inline inspection market is fragmented with many independently owned companies competing alongside large corporates, although no single dominant player. The larger players tend to operate as sector specialists (e.g. Krones) with a broad portfolio or technology specialists for whom inspection is only a part of their offering. In contrast, the independent specialists focus solely on inspection and differentiate through technology expertise, application focus, pricing or geography – for example:
Technology: Keyence and Cognex specialise in machine vision cameras and sell into a broad range of sectors
Application: Vision inspection companies such as Filtec compete by focussing on a small number of specialist applications on a small number of industries
Pricing: X-ray companies such as Mekitec focus on low cost systems to compete with the likes of Mettler-Toledo and Thermo-Fisher
Geography: Commonly independent specialist focus on a specific geography e.g. Filtec focus on North America whereas Heuft focus on Europe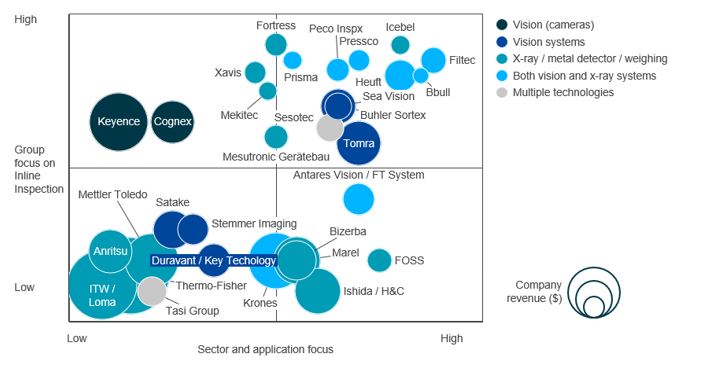 What does this mean for technology companies and investors?
There are attractive opportunities either through a sector strategy or a technology roll-up. Focusing on inspection technology in a specific sector will provide synergies both within inspection and with other technologies – an example of this is Duravant's acquisition of Key Technologies to complement its existing position in food processing. Alternatively, a technology strategy could be employed – an example of this is Al-KO subsidiary Stemmer Imaging building out a specialist machine vision camera business by rolling up smaller competitors.
Innovation will be a key driver of differentiation with the winners are finding new ways to answer end user challenges whether that is through more accurate detection of foreign material to helping end users process more creative product lines.
Want to know more about how we help clients in the industrial technology sector?
Plural's industrial tech team works closely with a number of global multi-platform industrial technology companies and private equity investors focusing on emerging opportunities presented by digitally-enabled and best-in-class mechanical technology in specific end markets.
Browse our insights and case studies within the sector for more details here.
Alternatively, contact our expert team by submitting the form below.
[contact-form-7 id="761″ title="Let's Talk"]