The US parcel sector is increasingly adopting automation and digital technology to solve its delivery challenges, presenting an attractive market for equipment integrators, new entrants and investors. However, understanding the investment cycle and getting the timing right is a key investment consideration.
There are fundamental drivers supporting the growth of automation in intralogistics and the US parcel sector
Intralogistics automation solutions can involve complex combinations of conveyors, sorters, cranes and robots along with sophisticated digital technology, software and controls.
For a number of years, the intralogistics automation space has benefitted from close to double-digit growth and with that has come M&A activity – notably Honeywell's acquisition of Intelligrated, Kion's acquisition of Dematic and Toyota Industries Corporation's acquisition of Vanderlande as well as PE involvement such as the acquisition of Van Riet by PE owned MHS.
The growth of the automation space is driven by increased adoption across a diverse set of industries. In the US parcel sector, both FedEx and UPS are achieving significant benefits from implementing automation, including:
Increased capacity and improved flexibility to address growing e-commerce volumes;
Improved efficiency to maintain profitability as labour costs increase and the shift to e-commerce puts pressure on margins;
Increased barriers to entry as Amazon ramps up investment in its own delivery network
Parcel companies have been making a transition to a more equipment intensive business model
UPS and FedEx have been making a step change in the equipment asset intensity of their businesses. FedEx made the first move but appears to have stabilised at a new level of asset intensity. UPS has taken longer to change but has now largely caught-up.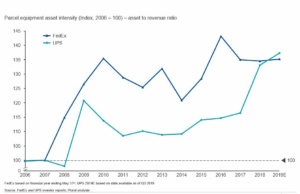 As parcel companies make this transition, they have undertaken a large wave of capital investment, but this is starting to slow
To deliver this increase level of asset intensity, FedEx undertook a wave of investment that peaked in 2016 – investment ratios have since returned to historical levels. UPS is still in the middle of its own capex wave which it expects to complete by 2022.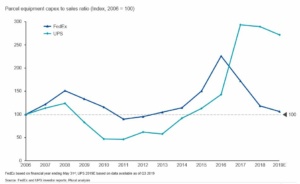 What does this mean for an investor?
The US parcel equipment handling sector is likely to be less attractive in the short term as this latest wave of investment winds down. In the longer term, growth will resume. The industry has shifted to a more capital intensive model and further opportunities will come from automation and digitization of new processes, steps forward in the efficiency of technology as well as continued investment to manage the growing volumes from e-commerce.
Want to know more about how we help clients in the industrial technology sector?
Plural's industrial tech team works closely with a number of global multi-platform industrial technology companies and private equity investors focusing on emerging opportunities presented by digitally-enabled and best-in-class mechanical technology in specific end markets.
Browse our insights and case studies within the sector for more details here.
Alternatively, contact our expert team by submitting the form below.
[contact-form-7 id="761″ title="Let's Talk"]