B2B media providers are transforming – shifting revenue to digital media platforms and driving customer spend through an end-to-end suite of marketing solutions. Media providers are at different stages of this transformation – whether converting from print to digital and/or converting customers to more sophisticated, high-value marketing solutions.
In earlier stage transformation, it is not always easy to identify the platforms with great potential versus those that need significant work and investment or lack a strong enough position with their audience and marketers to evolve successfully.
Plural Strategy has assessed numerous B2B media platforms at different stages of this journey on behalf of investors and strategics looking to help propel growth and value creation.
So, which key performance indicators (KPIs) tell us that an early-stage platform can transition to a higher-value offering?
1. Audience digital engagement metrics
Strong audience engagement metrics are fundamental to the successful transformation of any B2B media provider. A strong platform will have an audience which frequently interacts with its digital and live offerings. Key indicators include:
web traffic and unique visitor metrics,
newsletter open rates, and
percentage of active users.
Online audience surveys can also be extremely useful in understanding audience needs and engagement behaviours.
2. Overall revenue mix
A high-potential B2B media platform will show evidence of a revenue mix that is increasingly weighted towards digital media (assuming print) and a range of marketing solutions. Even if the marketing products are underdeveloped, the provider should be achieving healthy uptake of content marketing solutions (e.g., sponsored content, content syndication), custom content solutions, webinars, etc.
3. The average revenue per customer (ARPC) of the top customers
Perhaps the most significant indicator of an early-stage B2B media provider is the spending behaviour of the largest customers.
Top customers should be most dependent on the platform and increasingly taking advantage of its product suite to access and engage with its audience.
Ideally, ARPC is heavily weighted towards digital (assuming print also exists) and is increasingly spread across a mix of marketing solutions.
These customers should have expanded spending from traditional digital display to a range of other content-led products.
Spending on content marketing and custom content solutions should be evident.
There will also likely be wide variances in spending levels and what products customers use as some customers advance across the platform quicker than others.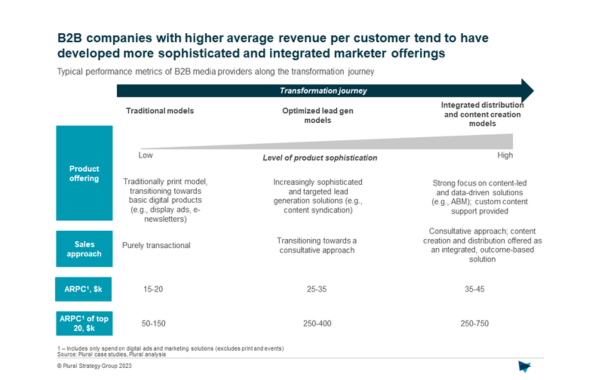 4. Spend vs company size
Once average revenue per top customer is considered, assessing the spend potential across the customer database can be useful. This can be done by:
mapping company revenue to the customer base (as a proxy for marketing budget capacity), and
identifying large companies that are spending different amounts across the platforms.
This will show the potential across the marketer base, assuming need and reliance on the platform are equal. It will indicate the potential to create more top spenders and evolve the spend of accounts within different tiers.
5. Retention
Gross and net retention are important measures of strength across the platform. Key questions to answer include:
How many customers is the platform retaining each year?
How many retained customers are spending more?
Why investors in B2B media should examine these five KPIs.
By examining these five KPIs (and others), investors can build confidence that:
The underlying need between the audience and marketers is strong,
The platform has strength with its audience and its customers, and
The mechanisms which drive successful transformation are taking shape.
Plural Strategy's database of industry benchmarks enables our clients to understand where B2B Media platforms are on the transformation spectrum, KPIs to expect, and KPI targets to drive towards.
We also help multiple B2B Media platforms with transformation strategies.