Have we reached the bottom in the North American small-mid sized commercial vessel market and where can manufacturers find growth?
The offshore support vessel (OSV) market was hit hard after the 2014 oil price crash – exploration ceased and production activity was significantly cut, causing a huge oversupply of vessels. OSV new build and MRO spend fell 22% between 2015-2019.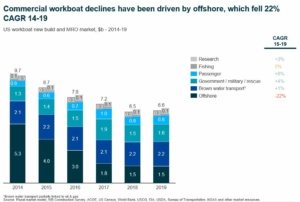 Has the market decline finally reached the bottom? We expect so.
Although the oil price reached its low point in 2015, OSV spend continued its decline. A backlog of pre-crash new orders continued to decline through to 2018 and as these new orders came on stream this contributed to further oversupply which in turn dragged down vessel utilization and MRO spend.
However, the number of new builds in 2017 and 2018 amounted to six and three respectively and active fleet utilization steadied. We are not expecting a rapid bounce in the offshore segment but a stable to increasing oil price and at current new build levels – the market has almost certainly reached its bottom. New regulation and the need to replace idol vessels should support gradual investment.
Where can manufacturers find growth?
We expect a more positive outlook in other commercial segments such as brownwater and passenger – both are supported by a good economy, increased onshoring and also regulation driving fleet modernization. Larger and more powerful support tug vessels are also required to better serve larger tankers and shipping vessels.
Emerging technology such as digital is also a large opportunity in marine as owner operators seek to optimize fleet management and vessel connectivity. The smart marine opportunity is nascent but will take a leading share of future investment.
On the horizon is also the US offshore wind which will drive investment in a whole new fleet of vessels specifically designed for turbine installation and servicing.
Want to know more how we help clients in the industrial technology sector?
Plural Strategy works closely with a number of global diversified industrial technology companies and private equity investors focusing emerging opportunities presented by mechanical and digital technology, and data in specific end markets.
Browse our insights and case studies within the sector for more details here.
Alternatively, contact our expert team by submitting the form below.
[contact-form-7 id="761″ title="Let's Talk"]