Four evolving market dynamics will drive professionalisation of two of the world's leading shrimp aquaculture markets – India and Vietnam
1. Short term over supply and increasing global competition will create an environment of sustained lower protein prices
Global shrimp production was significantly higher in 2018 than previous levels, and has grown consistently above 10% since 2015. India is now the leading player globally
Export demand, the main driver of demand for Indian and Vietnamese shrimp, significantly slowed in 2018
A combination of rapid growth from producing markets such as India and Ecuador and recovery in markets such as Thailand and China has created huge supply capacity and a more intense global competitive landscape
Overall, global supply capacity now far outweighs demand
Fig. 1. The global shrimp market has grown 10% since 2015 with new leaders emerging.
Global shrimp production by producing country, KT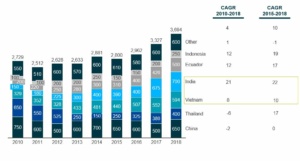 Source: Multiple country sources, Plural
Protein prices in key import markets such as the US and Europe have been falling since 2017. In the absence of disease and at the current pace of demand prices are unlikely to quickly recover due to supply capacity
Competition will intensify with several countries pursuing share gain. Certain countries such as India have significant further land availability
At a lower price point, small farms will struggle to break even. This will eventually drive both farm consolidation and a shift to more sophisticated farming methods
Larger producers will seek differentiated shrimp product which can compete at a different, more attractive price point
Fig. 2. Import prices in Europe and the US dropped through 2018, now 11% lower than 2017 averages 
Shrimp import prices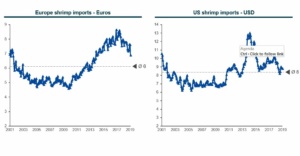 Source: EUMOFA, NOAA, Plural
2. Increasing environmental challenges, a result of rapid farm land expansion and deforestation, which is unsustainable 
Vietnam and India have almost entirely grown through land expansion with average farm sizes remaining relatively small
Small farm sizes and traditional farming methods make both markets highly susceptible to disease
The land expansion has led to significant deforestation which results in vulnerable shrimp farming land due to the lack of nutrients supplied by plants. Rapid destruction of mangrove areas in Vietnam has left the coastline exposed and therefore highly susceptible to erosion and damage to the entire coastal ecosystem
A continuation of deforestation will threaten the sustainability of shrimp farming in areas such as the Mekong Delta in Vietnam
Therefore, improved farming methods supported by more advanced technology is necessary and highly likely in the next few years as the market consolidates
Fig.3. Vietnam and India shrimp production hectares and production yield per year of whiteleg shrimp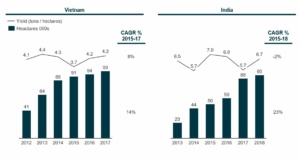 Source: MARD, VASEP, MPEDA, Plural
3. Individual State and Province commitment to improve competitiveness 
Vietnam has significant variance in productivity by province. Several provinces have developing plans to improve farming sophistication which will encourage investment
For example:
Ca Mau: Plans to grow its contribution to shrimp exports by 12% 2017-2015 by expanding super-intensive, intensive and semi-intensive shrimp farming, developing infrastructure in large-scale shrimp raising areas, applying advanced technology, and using rational production methods within local farmers' investment capacity
Ben Tre: The Ben Tre province has set a target to significantly increase shrimp production by 2025. It aims to reach this by developing its shrimp sector's value chain with intensive farming and advanced technological application
Fig. 4. Key stats – Shrimp production and productivity by province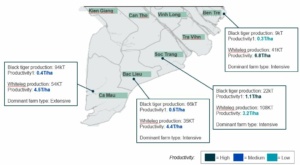 1 Whiteleg shrimp production/aquaculture area
Source: Vietnam Government, Plural analysis
India has a number of emerging shrimp producing states, again with significant variance in growth and productivity
Certain states have proposals in place to further convert land but in the face of more intense global competition and lower protein prices – productivity investment appears necessary
The bulk of India's recent growth has been driven by land conversion with significant variation in productivity by state
Fig.5. Whiteleg shrimp growth and productivity by State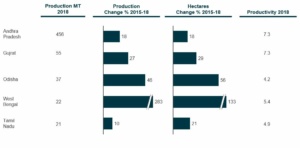 Source: MPEDA, Plural
4. Tightening import standards will drive farms to produce higher quality and highly traceable shrimp
Markets such as the Eu, US and Japan are raising quality standards on imported fish and have significantly increased refusals, particularly due to traces of banned antibiotics
Trade agreements face increasing scrutiny over the quality and traceability
With increased competition, key producing markets such as India and Vietnam will need to differentiate through high quality and accountable production in order to win and protect import agreements
Want to know more?
To find out more about our expertise in global animal nutrition and aqua markets and our internal data bank, please contact our team below.
Matthew Vellacott | Partner | New York
T: +1 917 472 1466
E: matthew.vellacott@pluralstrategy.com
Bart Vervoort | Manager| London
T: +44 207958 7250
E: bart.vervoort@pluralstrategy.com