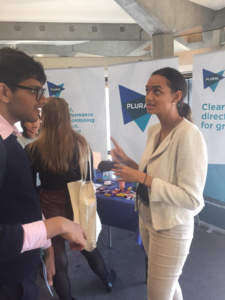 Plural Strategy attended the Cambridge careers fair on 11th October 2018.
Over 1,000 students who may be interested in joining management consulting companies attended the careers fair. Gabriella Rimmer (pictured), Ruoxi Huang and Ana Seoane were delighted to speak to the attendees about a career in strategy consulting at Plural.
Plural was also proud to unveil its new branding at the Cambridge careers fair.
Find out more
Learn more about management consulting careers and Plural Strategy opportunities: