Plural recently launched its annual cross-sector B2B audience survey.
It is clear from the results that audience engagement behaviour continues to rapidly evolve, both by the information needs audiences have and how they source and interact with that information. Variances by sector, seniority and function highlight that it's not one-size-fits-all and what works for one B2B media provider might not be the perfect playbook for another.
What stood out from the survey across sectors and job roles is that senior audiences want more. Multiple factors such as regulation, technology, consumer demand, supply chain, workplace, among others, are causing rapid change and increasing complexity across sectors. This is creating an ever increasing knowledge gap which cannot be plugged by general industry news or a whitepaper.
What do these changes mean for B2B audiences?
Senior decision makers need a higher level of real-time information. For example, insight on industry best practice stood out as a key under-served information need. Sharing industry challenges with peers and tackling problems together is increasingly critical for senior stakeholders. Data points on regulation, workplace policies, climate change (as examples) are incredibly powerful insights that can help senior stakeholders make informed decisions.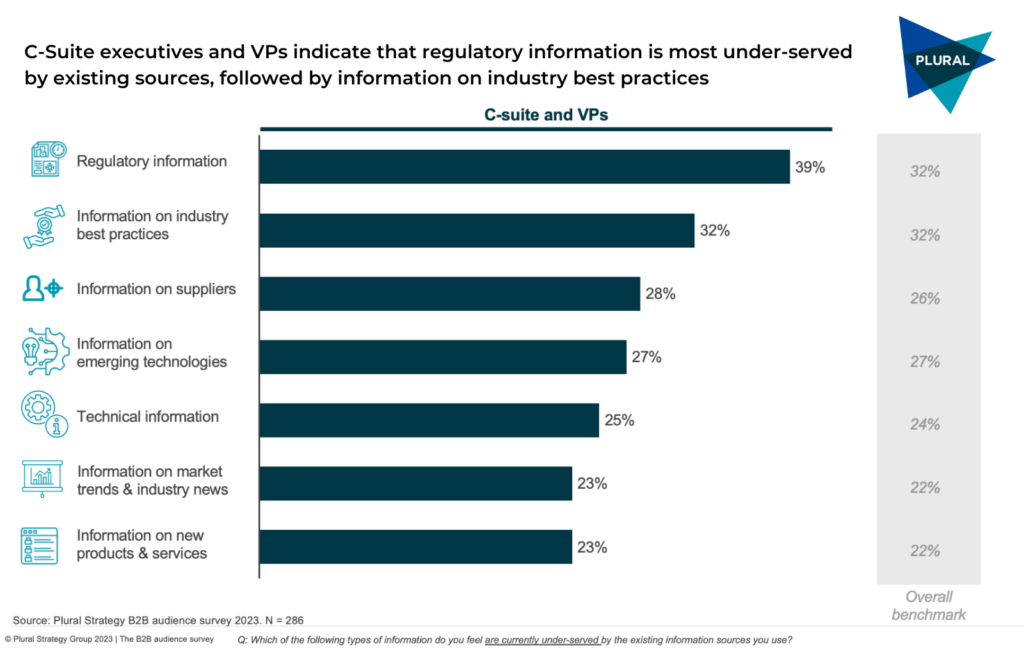 Although high-quality editorial remains fundamental to audience engagement, more premium cutting-edge content and peer-to-peer interactions are driving value.
Theme-led research, customer insights, peer network models and focused events with a strong peer-to-peer offering will continue to both complement but also take share from traditional B2B models.
A deep understanding of audience information needs in a given vertical is key to developing winning user or ad-funded B2B media models. Plural has deep expertise helping its B2B media clients develop business models and value propositions which most effectively capture user and marketer value and identify best in class models.