Plural supports Corporate Visions, a Riverside portfolio company, on its investment in Primary Intelligence
Plural Strategy (Plural) is delighted to have supported The Riverside Company (Riverside) on its investment in Primary Intelligence, a provider of SaaS-based win-loss analysis solutions for B2B companies. This acquisition is an add-on investment to Riverside's platform, Corporate Visions, which provides sales, marketing and customer success training solutions for Fortune 1000 companies globally.
Win-loss analysis is a valuable tool for marketing and sales teams to improve conversions, develop products and adjust go-to-market strategies. As a leader in the category, Primary Intelligence has analyzed nearly 100,000 B2B purchase decisions for hundreds of companies in 50 different industries over the past 20 years. Its recently developed automated solution leverages their vast experience in behavioral outcomes-based surveying to create one of the most intelligent databases of customer buying insights.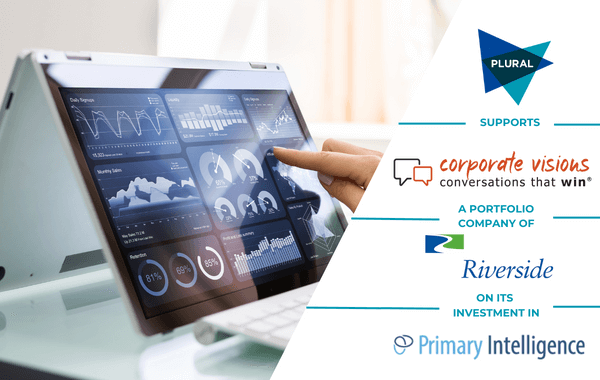 In addition, Corporate Visions will now have access to ongoing feedback from thousands of deals and customer engagements across different teams in a variety of industries and geographies. This will provide one-of-a-kind volume of real-time, real-world customer data that can be used by Corporate Visions' research and advisory business, B2B DecisionLabs, to continually produce the most powerful, exclusive research-backed revenue growth insights.
Plural supported the Riverside team to evaluate the value proposition and market opportunity for automated win-loss solutions, as well as assessing the combined proposition of the two businesses. The Plural team was led by Jonathan Dufton and included Bart Vervoort and Tanish Gupta.