Many B2C and B2B brands believe that influencer marketing presents a significant opportunity and are looking to increase investment. However, a proportion of brands are still struggling to understand how to utilise this channel effectively. Plural explores emerging business models and how agencies can win in the new era of influencer marketing.
A reinvention of the oldest form of marketing
Utilising 'influence' to sell products and services is nothing new; endorsements, brand ambassadors, and recommendations have been around for centuries. In 1840, Queen Victoria wore a white dress to her wedding, setting a trend that has become ubiquitous. More recently, celebrity endorsements have influenced society and consumer behaviour.
However, the advent of social media has enabled anyone to cultivate a following and share recommendations. This has led to the modern social media influencer and created a billion-dollar industry.
Growing investment in influencer marketing
Global spending on influencer marketing is growing at over 20% per annum. More marketers are allocating budget to this channel. Influencer Marketing Hub estimates that 75% of marketers intend to commit budget to influencers in 2022, up from 37% in 2017.
There are several factors underpinning the growth in influencer marketing spend:
Social media usage – in 2022, the average internet user worldwide (aged 16-64) spends 147 minutes per day on social media. This continues to grow (up from 145 minutes in 2021).
Spend on e-commerce channels – Influencer Marketing Hub predicts that consumer spending through social platforms will triple globally between 2022 and 2026.
Proven effectiveness with consumers – influencers are a valuable channel for companies to deliver their message to consumers. According to Adweek, around half of social media users actively follow one or more influencers and report being guided on purchasing decisions by them.
Whilst influencer marketing spend is significant, currently estimated globally at c.$15bn, it is still nascent. Plural estimates that influencer marketing accounts for less than 5% of global marketing spend.
This low proportion of overall marketing spend is inconsistent with social media's share of consumer media consumption and the perceived ROI of influencer marketing as a channel;
Global Web Index estimated that in 2018, online media represented 61% of media time for digital media users and of that online media time, 35% was spent on social media
According to Mediakix, 89% of marketers say that the ROI on influencer marketing is comparable to or better than other marketing channels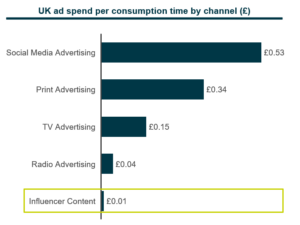 Influencer marketing as an emerging channel is also reflected when comparing the ad spend on media channels with consumption time.
Plural analysis estimates that marketers spend c. £0.15 for each hour an individual consumes TV adverts. This increases to £0.53 per hour for overall social media advertising (e.g., brand-sponsored posts). Currently, marketers only spend £0.01 per hour of influencer content consumption, suggesting substantial headroom for influencer marketing spending to increase and reflect the value of the channel.
Challenges brands are facing
Some brands are struggling with how to utilise influencer marketing as a channel. Our discussions with marketers in Plural's Marketing Spend Outlook 2021-2024 echoed this:
"Whilst I expect to see growth for influencer marketing on a couple of our brands, to be honest, we're still very much trying to work out how to get the most value from this channel."

VP of Global Brand Marketing at an FMCG company
For brands new to influencer marketing
As these brands are at the early stage of experimenting with influencer marketing, campaigns are likely to be less effective as the right metrics are not set up. Similarly, the susceptibility to influencer fraud can potentially result in less impressive perceived returns.
Players within the influencer marketing space are aware of these knowledge and skills gaps within brands. Consequently, they have developed a range of business models to help brands improve the effectiveness of influencer campaigns.
For established players
As the consumer market becomes more saturated, even brands with established influencer marketing strategies will need to be more sophisticated in their approach. Increased investment in influencer marketing will also require a more strategic and targeted approach, as stakeholder demand for budget justification will also increase.
How the influencer marketing ecosystem is evolving
The explosion of influencer marketing has led to the rise of numerous business models. We can broadly categorise these as:
Full-service marketing agencies with influencer capabilities – in recent years, some agencies have developed or acquired influencer marketing capabilities to complement their primary digital marketing offerings, but tend to lack specialist expertise in this area
Specialist influencer marketing agencies – offer extensive coverage for all influencer marketing-related activities, from strategic planning, talent management/acquisition, content creation, campaign activation/media buying, to results measurement
Technology platforms – automate influencer search and discovery, connecting brands directly with influencers and facilitating campaign tracking and management analytics
Talent management agencies – typically manage "mega" and "macro" influencers (celebrities and professional online personalities) and align them to brand campaigns, often in partnership with large, full-service marketing agencies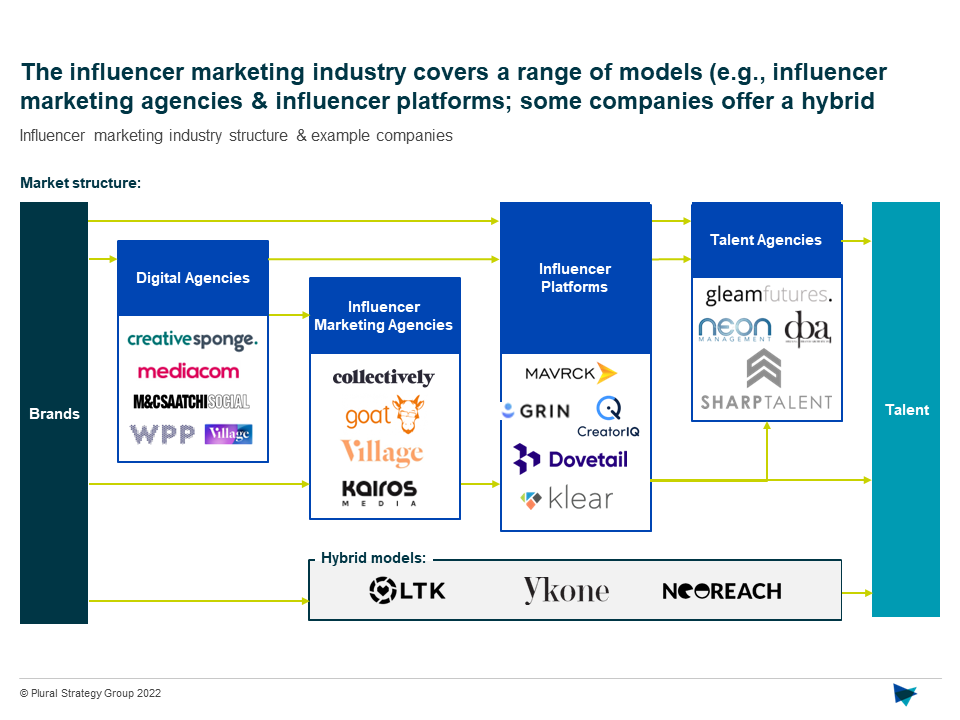 Which models will win out
At this current stage of experimentation, all models are seeing growth.
However, Plural expects that certain models and companies will outperform, as brands become more sophisticated in their approach and face mounting pressure to demonstrate ROI.
Given these trends, specialist influencer agencies are especially well-positioned to win in this sector due to:
Their specific skill sets in strategic campaign development and ability to execute these campaigns effectively
Ability to deliver a more strategic, targeted and effective offering to brands and marketers
As we have seen in e-commerce marketing, the specialist knowledge of these campaigns, from planning to influencer selection, messaging, and measurement can be the difference to create an effective strategy.
Brands looking to harness the power and reach of influencers are likely to target spending with these agencies, allowing brands to overcome their current challenges of limited expertise and inability to demonstrate ROI.
Hybrid is another emerging model, offering a combination of an influencer marketing agency, technology platform and/or talent agency.
Whilst typically emerging from a strong agency background, this combination can provide a competitive advantage due to multiple touchpoints in the industry (i.e., working for both brands & influencers) and offering a variety of services appealing to a range of customer needs.
As the market grows, there will remain a role for talent management agencies and technology platforms in the influencer marketing ecosystem.
Talent management agencies are likely to work with large brands on specific projects or for high-profile influencers (akin to previous celebrity endorsements).
Technology platforms provide a lower-cost alternative for smaller brands seeking to use influencers and provide measurement tools.
Opportunities in the new era of influencer marketing
Ultimately, brands are still waking up to the opportunities that influencer marketing represents. Whilst not a new concept, modern social media influencers enable brands to speak directly to their consumers through a trusted voice, resulting in growth that is here to stay. However, this is not a marketing channel without its challenges. Lack of expertise and difficulty demonstrating ROI.
We see an opportunity, particularly for specialist influencer marketing agencies and hybrid models, to capitalise on these needs and show brands how to make the most out of the new era of influencer marketing.
Contributing authors
Alex Holt, George Hodson, Isadora Morgan and Johanna Jeffery.